This popular Singaporean attraction gives thrill seekers the opportunity to experience skydiving. There's no plunging, no jumping, no bad weather – just adrenaline rush and sheer exhilaration like no other. The flight experience starts the minute you set foot inside the airport terminal styled facility.
Big and Safe Wind Tunnel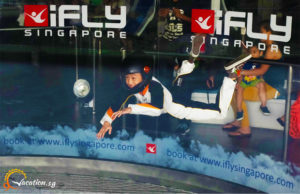 Measured at 5.02m in diameter and a height of 17.22m (equivalent of a 5-storey building), the vertical wind tunnel is the biggest in the world. Anyone, from first timers to seasoned skydivers and between the ages of 7 and 106 years can sign up for this. The facility's top-of-the-line technology guarantees high levels of safety. With the tunnel's sheer size, you can do a variety of movements like free-flying and formation skydive. Not only that, the acrylic glass wall allows the visitor to get a spectacular view of the Siloso Beach and South China Sea.
The Price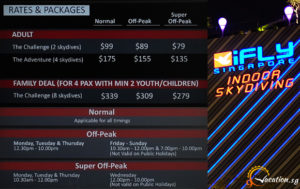 The experience comes at just 1/5th of a tandem jump's cost (see rate above) and in return visitors will be receiving skydiving gear, professional guidance and an unmatched skydiving experience. And the most important of all, you will be getting the fun of your lifetime.
Patented and Top Notch Design
The facility is managed by SkyVenture's global franchise network, which has more than 32 tunnels around the world. The company's patented multiple overhead fans, wall-to-wall airflow and other such unique technologies deliver the most accurate and safest free fall simulation possible. At present, SkyVenture is the world leader when it comes to indoor skydiving simulation simply because of its safety measures and multiple patents.
As long as a person meets the criteria of SkyVenture, they can sign up to be a part of this amazing experience. Flying is possible even for those with disabilities.
The Flight Criteria
• The person must be weighing less than 120 kilos. One must notify the authority if he/she is exceeding the limits.
• Is at least seven years old.
• Is able to wear comfortably one of their helmets.
• Is not pregnant.
• Has not dislocated his/her shoulder previously and has no history of heart problems or neck/back injury.
• Is not under the control of non-prescriptive drugs or alcohol.
• Is not dressed in a plaster cast.
• Has signed iFly Singapore's indemnity form.