Owning a supercar is a dream of most motor enthusiasts but only a few manage to achieve such dreams. But, if you are in Singapore then riding a dream vehicle does not prove to be a distant dream, thanks to Ultimate Drive.
Located at Marina Bay Sands and Singapore Flyer, Ultimate Drive offers you with the opportunity to drive the two ultimate supercars – Ferrari F430 F1 Spider and Lamborghini Gallardo Spyder. You can hire any of these two cars or even both the cars and drive them through the highly popular and famous Singapore F1 course. There are three packages available which include Street Circuit Tour, Street to Freeway Tour and Ultimate Tour. The First package allows you to drive these magnificent vehicles for fifteen minutes, the second package offers half an hour of ride time whereas the last package offers a ride time of one hour.
Be Thrilled Driving Your Dream Car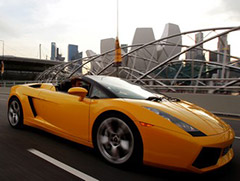 You can either choose to drive the vehicle on your own or if you wish to sit back and relax then professional drivers are available to show you the capabilities of these supercars. While on the road, you will feel overwhelmed with the kind of attention from motorists and passersby all turning their heads to get a glimpse of the beast under your command.
You can also bring a friend or relative with you and ride both the vehicles side by side and even snap pictures. Both the vehicles have top speeds of over 300km/hr with power of about 500bhp. You can opt for manual shifting of gears via F1 paddle shifters or the fully automatic mode base on your preference.
Booking for the vehicles can be done through telephone, internet or any of the boutiques of Ultimate Drive. In order to drive the cars, you need to be over twenty one years of age with at least two years driving experience.
Ultimate Drive is open for you all throughout the year even on public holidays and weekends. The timings are from 9 a.m. to 10 p.m. Once you are done with your thrilling outdoor ride, you can collect the Ultimate Drive Certificate with your name on it. You can also purchase a memorable recording of this once in a lifetime ride by paying S$58. The dual HD camera located on board helps in capturing the drive from 2 different angles – the street view and inside the cockpit so that you can cherish the memories forever.