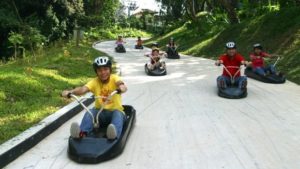 Singapore is never short of exciting and fun-filled activities and the Skyline Luge Sentosa is a perfect example of that. Located between Siloso Beach and Imbiah station, you can visit the Skyline Luge quite easily from any part of Sentosa. You can consider it to be a hybrid of go-cart and toboggan and offers you with the perfect opportunity to experience outdoors in a different style. No matter whether you arrive with your family and kids or friends, the ride is definitely suitable for people of all ages. The wheeled gravity ride allows riders to have full control while they descent along the purposely built Luge track.
The Adventurous Dragon and Jungle Trails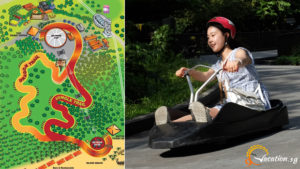 The Skyline Luge Sentosa happens to be the only place in the Southeast Asia where you can enjoy such a ride. Two special trails are available for the visitors which include the Dragon Trail and the Jungle Trail. The Dragon Trail is 688m long whereas the Jungle Trail is 628m long.
Before you set off, instructors will show you how to manoeuvre the luge with its long handles. The speed of the descent depends entirely upon you as you can come down gently or ride past your fellow companions as fast as you can.
Curves and Slopes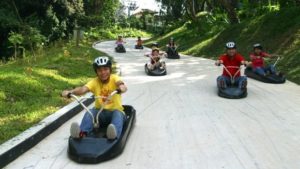 Extensive curve of 180 degree is available in the Jungle Trail. The tracks include exciting slopes, long straights and hairpin corners enough to make you scream and enjoy to the fullest.
What is the price?
Different packages are available for you to choose from which includes Luge & Skyline combo as well as family deals. You can buy ticket for a single Luge and Skyline for $13. However, we recommend to get 3 Luge & Skylines at $20 since you can try both trails and pick your favourite for the third luge.
Children below six years of age can ride the Luge with an adult and needs to be 110cm or taller.
Opening Hours
The Skyline Luge remains open all throughout the year from 10am to 9.30pm.
Night Experience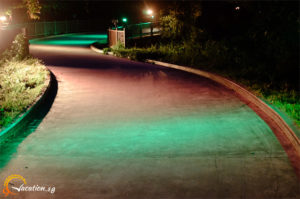 If you want to experience the real magic of the luge ride then the best time to do that is during the night. The trails are set ablaze with different types of lighting to suit the theme of each trail. It offers you with a completely different experience unlike the day time ride.
Enjoy the Skyride View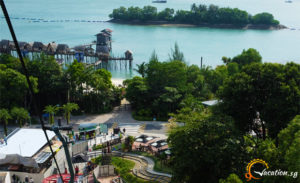 You can complete your outdoor exciting outdoor venture by taking a ride of the Skyline and witness the beautiful city of Singapore along with the foamy waves of the ocean from high above. It can turn out to be an exciting and memorable experience for you while vacationing in the beautiful city of Singapore.