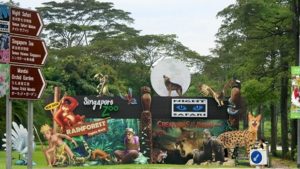 Singapore Zoo occupies 69 acres of land and is locally known as Mandai Zoo. It was previously named Singapore Zoological Gardens. It lies within Upper Seletar Reservoir in the densely arboreous central catchment area. The zoo exhibits animals in the contemporary fashion of naturalistic open-air enclosures with hidden barriers, glass and moats separating humans from animals. Wildlife Reserve Singapore operates Singapore Zoo along with Jurong Bird Park and Night Safari.
Conservation
Singapore Zoo boasts of being the first zoo throughout the World to rear polar bear in tropical climate. The bear named Inuka was conceived in 1990.
The Zoo is home to nearly 315 species of animals, of which 28 species are considered threatened. It has the largest colony of captive Orangutans on Earth. Keeping up with its commitment, Wildlife Reserve Singapore opened Wildlife Healthcare and Research Centre in 2006 to provide infrastructure to overseas parks and zoological partners for research. Various conservation and rescue initiatives are underway in the name of Night Safari and Singapore Zoo.
Shows and Events
The main amphitheatre in the zoo is Shaw Amphitheatre. It shows Rainforest Fights Back, which is a drama performed by actors and animals such as cockatiels, pea fowls, lemurs, orangutans, etc. together. Visitors are allowed to meet and interact with orangutans during Breakfast with an Orangutan session.
Elephants at Work and Play is another show where domestication of elephants in some southeast Asian countries is depicted. Mahouts or caretakers of elephants exhibit how they instruct the largest terrestrial beast to obey their commands. Children's section of the zoo has Kidzworld Amphitheatre, which shows Animal Friends featuring trick performance by domestic animals such as parrots, dogs, etc.
The life and intelligence of aquatic and marine animals and seabirds like dolphins, seals, pelicans, etc are exhibited in Splash Safari. The animals demonstrate their hunting techniques and perform tricks too.
Singapore Zoo facilitates various events such as weddings, birthday parties, etc. in its event venues called Garden Pavilion, Pavilion-by-the-Lake and Forest Lodge. Cocktail venues like Treetops Trail, Tiger Trek and Elephants of Asia are also in the Zoo.
The expanse of Singapore Zoo has remained the same 28 hectares since opening. However, the secondary forest developed later for Night Safari occupies 40 hectares. Night Safari and Upper Seleter Reservoir instil the sense of unrestricted natural space into Singapore Zoo.