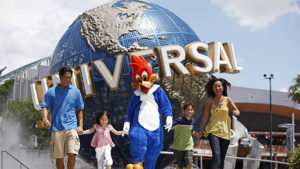 This theme park is situated within the boundaries of Resorts World Sentosa. It is Universal Studios' second theme park in the continent of Asia (after Japan). Since its introduction back in October 20, 2009, the park has attracted over 2 million visitors and still counting.
The park is 20 hectares in size and occupies the eastern part of Resorts World Sentosa. In total, there are 24 attractions with 18 of them being original or adapted especially for the park. Universal Studios Singapore consists of 7 themed zones surrounding a lagoon, with each of the zones being based on a popular movie or a TV show. The 7 theme zones are named Hollywood, New York, Sci- Fi City, Ancient Egypt, The Lost World, Far Far Away and Madagascar.
Hollywood
'Hollywood' is the park's entrance area and is accompanied by quite a few restaurants and flagship stores. List of character appearances include the likes of Po (Kung Fu Panda), Winnie Woodpecker, Woody Woodpecker, Frankenstein's Monster, Beetlejuice, Betty Boop, Marilyn Monroe and Charlie Chaplin. Major attractions here are Panatages Hollywood Theatre, Lake Hollywood Spectacular, Universal Studios Store, The Dark Room, Silver Screen Collectibles, Star Characters, The Brown Derby, Mel's Drive-In, Superstar Candies, Hollywood China Bistro and Celebrity Cafe and Bakery.
New York
This one is based after post-modern NYC and features classic landmarks and sidewalks mimicking the cityscape. Character appearances include Big Bird, Bert, Abby Cadabby, Elmo, Grover, Oscar the Grouch and Cookie Monster.
Sci-Fi City
This one is themed on the metropolis and cities of the future. Major attractions here include Accelerator, Battlestar Galactica: HUMAN, Battlestar Galactica: Cylon, Transformers: The Ride, Galactica PX, Transformers Supply Vault and Starbot Cafe.
Ancient Egypt
This place is modelled on the ancient Egyptian artefacts and architecture that was discovered during the 1930s and features the typical obelisks and pyramids. Major attractions include Revenge of the Mummy, Treasure Hunters, Carter's Curiosities and Oasis Spice Cafe.
The Lost World
Two themed regions are featured here: Waterworld and Jurassic Park. Notable attractions here include Canopy Flyer, Amber Rock Climb, Dino- Soarin, Jurassic Outfitters, Fossil Fuels, The Dino- Store and Discovery Food Court.
Far Far Away
This zone is inspired by the Shrek franchise and features a number of recognizable locations, with the main highlight being the 'Far Far Away Castle'. Popular attractions here include Shrek 4D Adventure, Enchanted Airways, Magic Potion Spin, Donkey Live, Goldilocks and Friar's.
Madagascar
Inspired by the 'Madagascar' franchise, this zone features two rides and lush tropical jungles. Notable attractions include Madagascar: A Crate Adventure, Penguin Mercantile and Gloria's Snack Shack.