Singapore XD Theatre is a 6D ride simulator roller coaster ride. The multisensory motion simulator is the latest addition in Singapore Flyer is can be enjoyed by people of all ages.
The audio and visuals are amazing but the characteristic feature is the movement of the seat according to the motion playing on the screen and the special effects such as wind blowing onto your face are great enjoyment. So 3D motion images coupled with seat movement, wind blowing and LED effects gives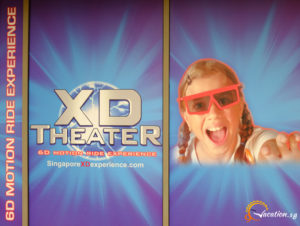 The area is small with 10 individual seats. You can choose between 3 adventure depending on the level of thrill you want. The turbine jet adventure is the most popular one since it brings out the 6D experience to the fullest.
This place is located in the second floor of Singapore Flyer. After a breathtaking panoramic view of Singapore in the flyer, if you want to experience something thrilling, the XD Theatre is the place to go.
However, the price is relatively expensive. For a single ride of less than 15 minutes, you need to pay $20 per adult and $18 per child. We would rather pay a little more and take several 6D rides in Sentosa's Impiah Lookout section and Universal Studios.