This historical riverside quay is located upstream from Boat Quay and Singapore River. It is named after Andrew Clarke, the second governor of Singapore (1873- 1875). He played a big part in making Singapore the main port of Sungei Ujong, Selangor and Perak.
Currently, the restored warehouses here are the location of numerous restaurants and nightclubs. This quay is a delightful combination of traditional and modern. Old shop-houses provide the perfect backdrop to Clarke Quay where you can have a merry time savouring in the delights of Mediterranean, Italian, Chinese and local cuisine.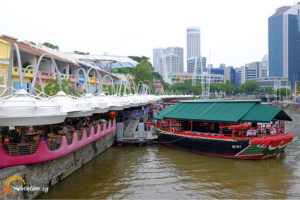 Singapore River Cruise has a ticketing counter and jetty for you to board at Clarke Quay. From here, you can travel in the electrically-powered bumboat back and forth Singapore River for 40 mins.
Fountain Platform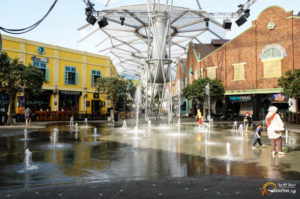 The fountain platform at Clarke Quay is one of the most popularly visited areas. The platform contains a number of small fountains. The water splashing is pleasing to the eyes and kids love it. The bars built around the fountain are popular among patrons.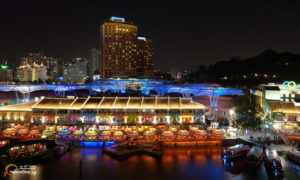 The nighttime at Clarke Quay offers a kaleidoscopic view with different colors pouring in and getting reflected on the waters at the river. The buildings and high rises will be painted in different colors that create a mood for revelry.