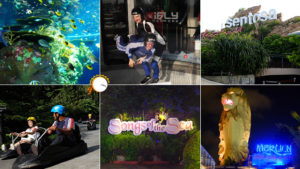 Most of my friends have already visited Singapore. I was told that Singapore is a touristic heaven with hospitable people, astonishing places, diverse traditions, original food and magnificent attractions. This place has been my dream destination until I decided to fulfill siit! One evening I called my girlfriend and invited her to Singapore. Together with Sophia we worked out a 4-day plan detailing what we will be doing and where.
In order to have a better hotel discount we booked only one hotel for our entire vacation. We decided to "park" ourselves in the Wanderlust Hotel.
The entire journey was fabulous and we loved everything about Singapore. I have a special sympathy for Sentosa Island so this time I want to tell you about how we managed to explore Sentosa Island in only one day!
The following is the itinerary of the fun-filled Sentosa travel.
9:20am
Reach Vivocity Mall through Harbourfront MRT station
9:25am – 9:50am
Walk to Sentosa Island via Sentosa Boadwalk
9:55am – 11:45am
Visit World's Largest S.E.A. Aquarium
11:55am – 12:55pm
Have lunch at Malaysian Food Street
1:00pm
Take Sentosa Express to the Impiah Station
1:20pm – 2:10pm
Visit Images of Singapore
2:15pm – 3:35pm
Take 3 luges and skyline rides
3:40pm – 4:55pm
Enjoy the thrill of flying at iFly
5:00pm – 5:55pm
Take a scroll along Siloso Beach
6:00pm – 7:25pm
Dinner at Coastes Restaurant
7:30pm – 8:40pm
Queue up for seat to watch a mesmerizing show Songs of the Sea
8:45pm – 9:00pm
Walk towards the Impiah Station and enjoy the night view along the way
9:15pm
Reach Vivocity Mall and take MRT back to hotel
It was our last day to explore Singapore and we decided to wake up a little bit earlier than usual. After getting a refreshing breakfast and off we go!
We stayed in a boutique hotel named Wanderlust, about 500m from the Bugis MRT station. The nearest MRT station to the Sentosa Island is Harbourfront and is separated by 4 stations. Bugis station belongs to the East-West line so we have to transit at Outram Park station to take the North-East line in order to get to the Harbourfront station.
At 9.20am we reached Singapore's largest shopping mall – Vivocity. We planned to enter the island by using the elegantly designed and crowded boardwalk by paying only $1 each. Beside the fact that this is the cheapest possible way to get into Sentosa, it was also a pleasant walk. Thanks God we had sunglasses and hats on as summer here is hotter than in Poland.
If you have luggage, strollers or a person who uses a wheelchair you should know that the pleasant walk will be made easier by the moving sidewalks.
This short distance walk (around 700m) took us 30 minutes, because we like to take billions of photos per second. Joking of course, but the fact that I have decided to visit many Earth's countries doesn't mean that I will visit this one again. So I want to have many photos to look at when I will get old or sad.
Sentosa Boardwalk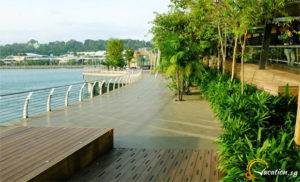 Our first destination was the world's largest S.E.A. Aquarium. We have bought two tickets at $76, and started to explore this marine life park by entering through the big automated door. First scenery was the iconic huge ship, the imitation ship of Admiral Zheng He. In between the anchors was a huge screen that showed a free film about Zheng He's life and adventures. There are also other smaller screens that tell different stories related to the Sea. He had the honor to watch a small part about Ma Zhu.
This place is accredited by Guinness World Records, because it hosts more than 100,000 marine animals. I have not enough words to describe the clean, peaceful and the nice atmosphere of this place. We went to all aquariums with our mouths opened all the time. This experience couldn't be compared with watching discovery while sitting at home. The biggest plus about this place was that we bought a map before we started to visit it. The site is huge and we heard tourists ended up spending too much time admiring the aquariums before they saw the largest one. Time was ticking away and we were very hungry.
S.E.A. Aquarium


At 11.50am we reached the Malaysian Food Street also known as The Bull Ring. We both love seafood, but after admiring fish and other nice sea creatures for two hours we have decided to eat pork and chicken. This wonderful place is a little part of Malaysia in Singapore.
Each detail of this eatery was astonishing: the old shop houses, the wonderful street stalls, the old-style coffee shops and the unique 1950's ambiance; ah, everything was like in those un-photoshoped photos of our friends that visited Malaysia.
I had yummy chicken clay pot rice from the famous Kuala Lumpur stall – Huen Kee Claypot Rice and Sophia had Penang lor bak from Penang Ah Long Lor Bak stall. Both portions were big enough, fresh and too good to satisfy our stomachs needs. Anyway we decided to try Penang's Chendol from Penang Lim Brothers' stall. Oh, what can I say?! For the last few days I have tried Singaporean Cendol and the Penang one seems to be fresher and the soft green jelly had a non-factory taste and color. We paid only $23 and left this place happy and with another batch of nice photos.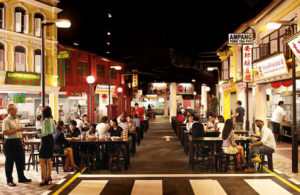 At 1pm we took the Sentosa Express in order to reach the Impiah Station. This public transportation system is effective, fast, very crowded and free of charge. I know that this air-conditioned train is payable if to ride it from Vivocity. But once we are inside the Sentosa island, the fare is free of charge.
It has 4 stations and is similar to the MRT, except the fact that Sentosa Express offered us much better aerial views. It was very crowded and hot; for a moment I felt like a potato in a sack of potatoes from a huge store. Thanks god we had to travel only one station. I mustn't complain about it as it was free of charge. Anyway it took us to our next attraction point.
Sentosa Express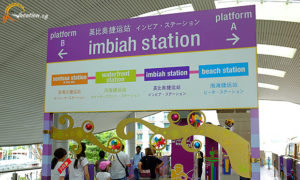 At 1.10pm we visited Images of Singapore. Tickets were only $10 each and we waited around 5 minutes for the show to start. This museum gives ample information about Singaporean culture and history, including Singapore's Malaysian rule, British rule, Japanese rule during the World War II. For us as foreigners this visit was surprisingly good, it gave us the idea of Singapore and its culture and diversity.
The initial video is short and full of essential information and the exhibits are truly amazing. We saw many 3D presentations of schooling, marriages, business, markets and laborers. Besides written information, there were proper images that took us back in time. At each exhibit we tried to put ourselves in Singaporeans skins, and frankly speaking, I admire the way Singapore is today! This country passed through a lot of ups and downs, and the final product today is very impressive! I will recommend this place to each person that visits Singapore, as it will give you a full picture about the country!
That said, what disappointed me about this museum is that the wax figures don't look real at all. You can tell from the pictures below.
Images of Singapore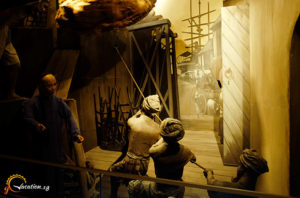 The museum visit gave us a lot of important information, but our brains needed some breaks and air, so at 2.15pm we started our next Sentosa experience in the nearest attraction – Skyline Luge Sentosa.
Each of us took 3 luge and skyline rides for only $20. There are two very short trails: Dragon (688 meters) and Jungle (628 meters). Our first choice was the leisure one – the Dragon cruise – it was safe and very thrilling.
The car was very easy to maneuver and we had a lot of fun! We also liked the skyline as it went high on the sky and we saw the whole Sentosa Island, Singapore city Skyline and the South China Sea. It gave us a strange feeling of unsafe, as the chairs don't feel sturdy and produce creaking sound. The bars that sustained us were not properly secure. But the fact that there were a few families with young children and everything went just fine made us feel much better.
The second choice was the Jungle trail. Oh, it was a different experience and I enjoyed to the core. My last choice was Jungle cruise and Sophia choose Dragon trail. We had fully enjoyed the whole experience. And we were happy to receive some photos on USB at the end.
Skyline Luge Sentosa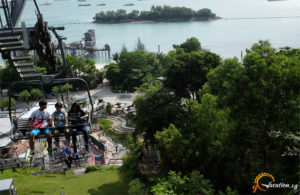 We were happy to have such experience like luge and skyline, but this wasn't enough for our appétit. We needed something different in order to make our hearts beat faster. Luckily our next attraction was iFly and at 3.40pm we were there.
We booked our tickets online that cost $99 each and had no problem with that day's agglomeration. We checked-in very fast and the party began. They gave us a 45 minutes lesson with videos and sessions with instructors. This wasn't our first skydiving experience, but this important reminder of rules and advices was quite helping!
Next step was the suiting up with helmets and goggles. Initially, it looked scarier that it felt like. I was the first laboratory hare and Sophia the second. This simulation experience was amazing. I liked the way instructor taught me how to fly in a loop around the chamber and later he flew up higher in the chamber with me too.
The flow of the oxygen to my muscles kept increasing and I could admire the South China Sea and the Siloso beach. My girl-friend made me a lot of nice photos but the DVD with our recorded flying experience that we received was definitively a huge plus.
I really enjoyed this attraction, but Sophia took it too seriously and had no time to have fun. Hope this practical experience will help her to be more relaxed next time.