It is quite simple and painless in getting around Singapore with the high coverage of public transport system. If you are planning to stay in Singapore for some period of time or visit the country several times in the near future, it would be wise idea to purchase Nets Flash Pay card or the EZ- link RFID farecard. This card is quite similar to the Octopus Card in Hong Kong, Oyster Card in London Underground, SmarTrip Card in Washington DC and the IC cards of Japan Railways.
Value can be stored in the card and used on MRT trains along with all public buses at a discount. The EZ-link card can be replenished easily at all MRT stations. It has a lifespan of 5 years. Unused credit can be refunded upon request.
Singapore Tourist Pass is another alternative that is available at major MRT stations and includes EZ-link functionality and numerous discounts on tourist attractions. Unlimited travel on non-premium buses and MRT are included and comes at a price of $10, $16 and $20 for one day, two days and three days respectively.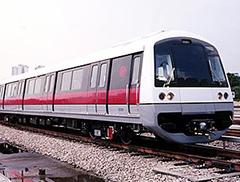 Mass Rapid Transmit or MRT and Light Rail Transmit or LRT are the lifeline of the country's transit system. Apart from being a reliable and cheap mode of transportation, the vast network covers majority of the tourist spots. The lines are integrated seamlessly, even though they are controlled by different companies.
Contactless RFID tickets are used by all train lines. Single trip tickets cost between $0.80 and $2.20. At the time of purchasing a new card, a deposit amount of $0.10 is charged that gets refunded in double on the third and sixth trip.
By Bus
Singapore buses are slower and less convenient to use when compared with MRT. The advantages of taking a bus are that you get to have a closer look of the surroundings and buses take you to attractions that are inaccessible by MRT or LRT.
The payment can be made in cash but the fare system is a bit complex where you might even get charged marginally more than the usual fare. Thus, the better option is to pay with Nets Flashpay or EZ-link card. You just need to tap the card at a reader located at the front door of the bus where the system will deduct a maximum amount from the card. Before alighting, the card needs to be tapped again where the difference will get refunded.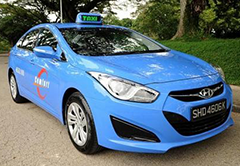 Singapore taxi are reasonably priced and most drivers are honest but because the number is too low, one might be left stranded for a long period of time.
Trips within city centre on weekdays should not be costing more than $10. It is sometimes faster and cheaper to take a cab when travelling in a group of 3/4 people. But again, taxis are difficult to secure even through booking agents particularly during peak hours.
The flag down rate across all companies stays between $3- $3.20, with increments starting from $0.22 for every 400m. Also there are some additional charges depending on peak hour, late night, central business district, trips from airport, phone booking, etc that will be added to the taxi fare. These charges are explained on a corner of the meter with tedious detailing.
Taxis are equipped enough to handle credit cards but there are certain drivers who are not in favour of electronic payment. To avoid being embarrassed, it is better to ask before getting in. An additional 17% surcharge will be added to the amount if credit card is used. Despite such costs, taxis can turn out to be a saviour if one is in a great hurry. Some taxi drivers possess poor geographical knowledge so it will be of great help if you carry a map along with you. Some drivers with good grasp of Singapore map may ask for the route you want to take to avoid dispute
if the route they take is not what you intend.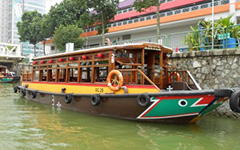 There are several islands in Singapore and bumboats are the main mode of transport to connect the islands. The busiest bumboats traffic is between Pulau Ubin and Changi Point Ferry Terminal where the ride fare starts from $3 per trip.
Bumboats can be seen along Singapore River where several pickup points are available. The bumboats are free of air pollution because they are all electrically driven. The ride has been nominated by the Singapore Tourism Board in the Best Sight Seeing / Leisure / Educational Program Category. The 40-min ride gives you an amazing view of CBD skyline and the price starts as low as $13.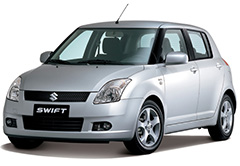 n Singapore, car rental is not that popular as compared to other Asian countries. It is also not that important for tourists since the island gets sufficiently covered by the public transportation.
Major rental companies will be charging $100/day for the smallest of vehicles available. Electric vehicle rentals are offered by a company named Smove at a registration fee of $19. Electric cars can be rented from fifteen minutes to an entire day. This service is offered at Singapore's Buona Vista area.
Roads in Singapore are in great condition and the driving habits are pretty good. When compared with major cities such as Hong Kong, Tokyo or Sydney, the parking spaces of Singapore are relatively easy to find. The traffic is smooth overall but the congestion during peak hours can be a severe one. That's why ERP gantries are setup at roads with high traffic to collect payment for those entering at the busy hours. The payments are deducted through an IU with a stored-value CashCard.
Singaporeans practise UK-style of driving with the minimum driving age being 18 years old. The speed limit is 90 km/h on express ways while on normal roads it is 60 km/h.
Passengers must be wearing seatbelts all the time and using mobile phones while driving is strictly banned. Singapore does not tolerate drink-driving with 0.08% being the maximum level of blood alcohol content. Roadblocks are set up at night regularly to catch offenders. The ones caught are fined heavily and possibly jailed. Even if the blood alcohol level doesn't exceed the limit, they can charge the travellers for driving under the influence of alcohol. Police will be mailing the files to the accused and the rental agency. The agency will then be passing on the cost by a surcharge.
By Bicycle
Bicycles can be a great substitute but there is no cycling culture here and amenities such as bike racks and bike lanes are a rarity.
The quality of air can also pose a big problem to cyclists. Singapore's LTA states that the country has over 178,000 diesel-engine cars, trucks, buses and taxis which can make cycling on crowded roads fairly unpleasant. The air quality drops even further when thick smoke from Indonesia starts descending on Singapore. It happens during the middle of the year when Indonesia carries out the illegal method of "slash and burn" in removing waste crops.
On foot
The roads in Singapore are generally "pedestrian-friendly". Pedestrian crossings and pavements are in great shape and plentiful. The marked crossing zones are nicely followed by Singaporean drivers, but can be less careful and respectful at street- corners.
Jaywalking is illegal here and will be fined up to $1000 or 3 months in jail.
In Singapore, classic walks include walking down from the Merlion, trekking along Southern Ridges Walk and strolling through Bugis, Little India or Chinatown.
By trishaw
These are 3-wheeled "bicycle taxis" that are of great demand near Chinatown and the Singapore River. These are mainly for tourists who want to explore the small area. This is not an option if you aim for some serious travel. Room for bargaining is quite low and short rides cost around $10-20. An hour of sightseeing can set you back by $50.
Tropical humidity and heat is one downside here which leaves many tourists sweaty and exhausted. So, it is better to carry a water bottle and a handkerchief wherever one goes. But you can always be able to find air-conditioned cafes, shopping mall and indoor attractions to cool yourselves off.
Compare hotel prices and find amazing discounts